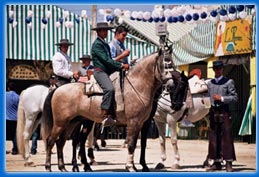 Tarifa, is located in 36º 00´North and 005º 35´ West. Is the most southern city of the Iberian peninsula with a local population that goes up to around the 15,000 habitants, can reach more than 100,000 habitants in summer. He is one of the greatest municipalities of Spain by his extension. It has sea, with one long beach of Los Lances , of eight kilometros of fine and white sand, until Punta Paloma, sprinkled of small hotels and campings in armonia with the enviroment. The continuous beach until Bolonia, Roman establishment of Baelo Claudia, in Cabo Camarinal, spreading the beach until Zahara de los Atunes, still in Tarifa.
The mountain are behind the sand, without urbanizations, are sea and mountain united by fields, green most of the year. With one spring full of color that causes that he is best epoca of the year to enjoy this earth.
Tarifa has an active fishing port and a terminal of ferrys that leave towards Tangier. Its history as refuge port goes back to epoca of the Phoenicians.
The old town of the city this surrounded by a wall, of orige of morisco of surprises pub, bar, labyrinth, its narrow streets grocer's of covers fashionable, store of crafts in a nice atmosphere, to anybody seems to concern your form to him to dress or to live. The person who comes to Tarifa returns safe and some cannot avoid to remain for always, in love with their climate and a form to live, different, breaking molds and established guidelines.
There is another Tarifa, cult, traditional, religious, with his fair of September, in honor of the Virgin of the Light, patron of the tarifeños, friend of all, able to obtain all your good desires, inseparable companion at the difficult moments, at which a great devotion surrenders. Their processions in Easter are also very showy and show tarifeño of always, long before which windsurf arrived....
windtarifa© 2004
FERIA DE TARIFA 2010
VIRGEN DEL CARMEN PATRONA DE LOS MARINOS TARIFA 16 JULIO 2009
MOVIE VIDEO CARNIVAL 2008

Cabalgata agricola Virgen de La Luz

Feria de Tarifa 2007


Feria Tarifa 2006