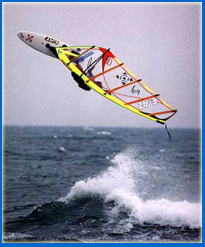 Tarifa is well-known anywhere in the world thanks to windsurfing.
The infrastructure in Tarifa around the Windsurfing and Kitesurfing is very developed. There is many supplies for his practice through schools specialized with the collaboration of the hotels and campings. Stores, repair shops,sails, boards, etc..
The Wind and the coast line as the Strait of Gibraltar and Tarifa give one of the best places of the world for its practice. Much wind and little sea. There are waves but not in agreement with the wind force, that is to say, that can to blow East force 7 and to have 1 meter of wave. The rio Jara is for which they like to surf with sail or kite. For the surfers really youy have to go to the Palmar and Caños of Meca for to get the best waves. Also the spot of the west Island of Tarifa, in the beach of Los Lances, mainly in winter by the gales of the Atlantic, waves of swell arrive at Tarifa, which they break to right and left with more than 2 meters of height.
The factories and factories of design and contrucción of tables as Rick Shapes and Fun Works between oldest of Tarifa. They prove and investigate new lines of waters for his tables competing with best shapers of the world of wind and kitesurfing.
Very famous are the sails of Bull Sails and The Loft, born in Tarifa.
WINDSURFING SCHOOLS The schools are in the zone of Valdevaqueros and Casa de Porros like Club Mistral or Spin Out. All the levels of courses, beginners and advanced. Also rent of material for all the levels. Tarifa is a test spots for boards sails and kites. Rick Shapes is the most famous shaper in Tarifa.
FESTIVAL WINDSURFING DECEMBER 2007
European Freestyle Pro Tour de Windsurf Gran premio Toro Andaluz 2006
TIDES TARIFA - ESTRECHO DE GIBRALTAR
HISTORY OF THE WINDSURF