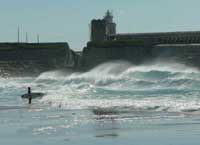 Tarifa is the departure point of many ways and exciting trips. Crossing the Strait in boat, ferrys, we can go to Ceuta and Tangier and from there, to all Africa. From the airports of Malaga, Jerez and Seville threre is departures to most of the european countries. The train arrives to Algeciras, 25 km from Tarifa.. A network of buses local, national and international makes trips from Algeciras, Tarifa and Cadiz.
Viajes WindTarifa.Com travel agency in Tarifa , offers the facility and comfort to prepare your dreaming trip and holidays.
Book your trip and hotel in advance. More info....